The remains of one of two missing Fort Hood soldiers have been identified, according to a family member.
"It was a missing soldier. My missing soldier Greg Wedel," his mother, Kim Wedel wrote in an email Saturday to ABC13.
Police said skeletal remains were found Friday in a field several miles from Fort Hood, after a tip to Army criminal investigators. Army officials have not yet confirmed the identity.
Private Gregory Morales was last seen driving his 2018 black KIA Rio outside of the army post on Aug. 19, 2019. His last known contact was the following day. Read Full Story from ABC 13 NEWS .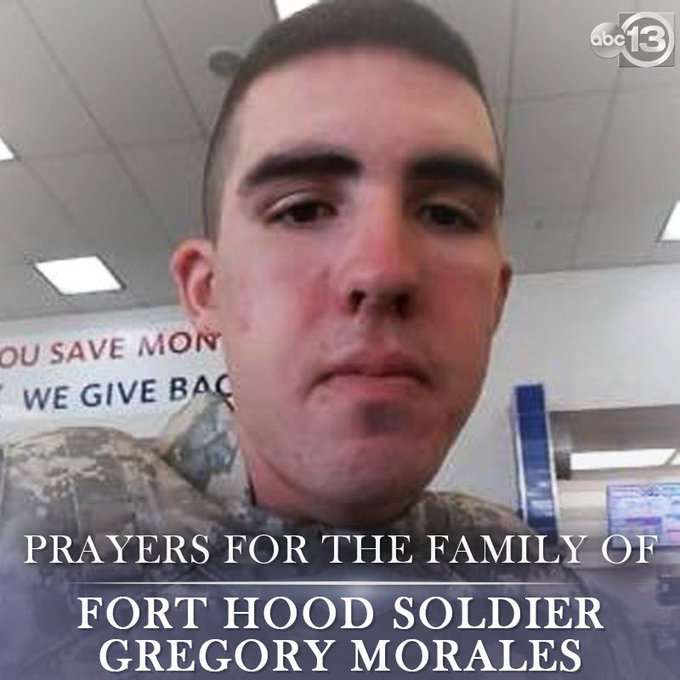 Cause of Death.
We have no information at the moment on of caused death . This post will be updated as soon as we have that information.
Tributes.
The following are some tributes posted on social media to honor the life and the legacy of the deceased.
Erica Simon
@EricaOnABC13  wrote
Sad news. The skeltal remains of Private Gregory Morales were found near Fort Hood. He hadn't been seen since August 2019. PFC Vanessa Guillen is still missing. Don't know what's happening to our soldiers, but it's disturbing. 
3)" I hate losing hope but 6 mos of no word, no leads, no info makes it very difficult. Please help me out by continuing to look for & watch for him or listen for any info about him while in Texas. I miss him & want him home. Happy birthday baby boy. I love you to the moon…"

— Catherine (@realGngrbrdgrl) June 20, 2020
remains were found. it was not the body of vanessa guillen.

the remains were of soldier greg wedel-morales. he had been missing for nearly a year.

fort hood is responsible. #WhereIsVanessaGuillen #justiceforgregorymorales

— l i b a r b a r i a n (@ramblgy) June 20, 2020
there are two soldiers who have been missing from Fort Hood, TX, where i live. one, vanessa guillen. vanessa went missing in April of this year. the other, greg wedel who's been missing since august 2018. the families are begging for answers & exposure pic.twitter.com/nboyHX9BnE

— k👑 (@KaleeNicolee10) June 5, 2020