Kenny Burrough, one of the best receivers in Houston football history. He played for Bum Phillips' Luv Ya Blue Oilers. He died at his home in Jacksonville, Fla., Thursday.
Former Houston Oilers standout WR Kenny Burrough passed at the age of 73. Not many people remember that old #00 started his career with the Saints.
His personal assistant said that Kenny died in his sleep last night in his hometown of Jacksonville, FL. No cause of death has been determined but he was in a rehabilitation facility treating his diabetes at the time of his death.
He was an All-American at TSU & a Pro Bowler w/ the Oilers. He's a member of the Black College Football Hall of Fame. Former teammate Dan Pastorini says, "He & I were a dynamic duo. Everyone in the NFL feared him."
Who was
Kenny
Burrough
Kenneth Othell Burrough was an American professional football player who primarily played wide receiver with the Houston Oilers in the National Football League.
Born: 
July 14, 1948, Jacksonville, FL
Condolences – Comments and Reactions.
Statement from @TexasSouthern VP/athletics Kevin Granger, released by the school, on the passing of former @TSUFootball and Oilers star receiver Kenny Burrough: pic.twitter.com/p1HWP1mZ4K

— Mark Berman (@MarkBermanFox26) February 24, 2022
Ashley Burrough-Johnson, daughter of the late Kenny Burrough, former Texas Southern & Oilers star,on his career being remembered after Kenny passed away today: "It means a lot to me. At the end of the day he was a local superstar,but he was just dad to me..It just warms my heart" pic.twitter.com/FfFb6c2gQT

— Mark Berman (@MarkBermanFox26) February 25, 2022
RIP to one of the best wideouts in Houston Oilers history. Kenny Burrough was the man. He wore 00, and was a graduate of @texassouthern. He passed away at the age of 73. https://t.co/8tHypDWolL

— rolandsmartin (@rolandsmartin) February 25, 2022
Scott Herrin wrote : Amongst the litany of bad news of the day came this: Kenny Burrough died today. He was prep Star in Jacksonville and was a star at Texas Southern. He was a two-time pro bowler and lead the NFL in yardage in 1975. He was my mom's favorite Oiler. You brought many, many smiles to it family and me. RIP Double zero, you were enjoyed and will be missed.
Hall of Famer Robert Brazile on the passing of his former Houston Oilers teammate, WR Kenny Burrough.The two talked all the time: "Punch to the stomach. (Wednesday) he called.Kenny always told me. 'Hey brother, if you're worried about Double O, you need to worry about somebody.."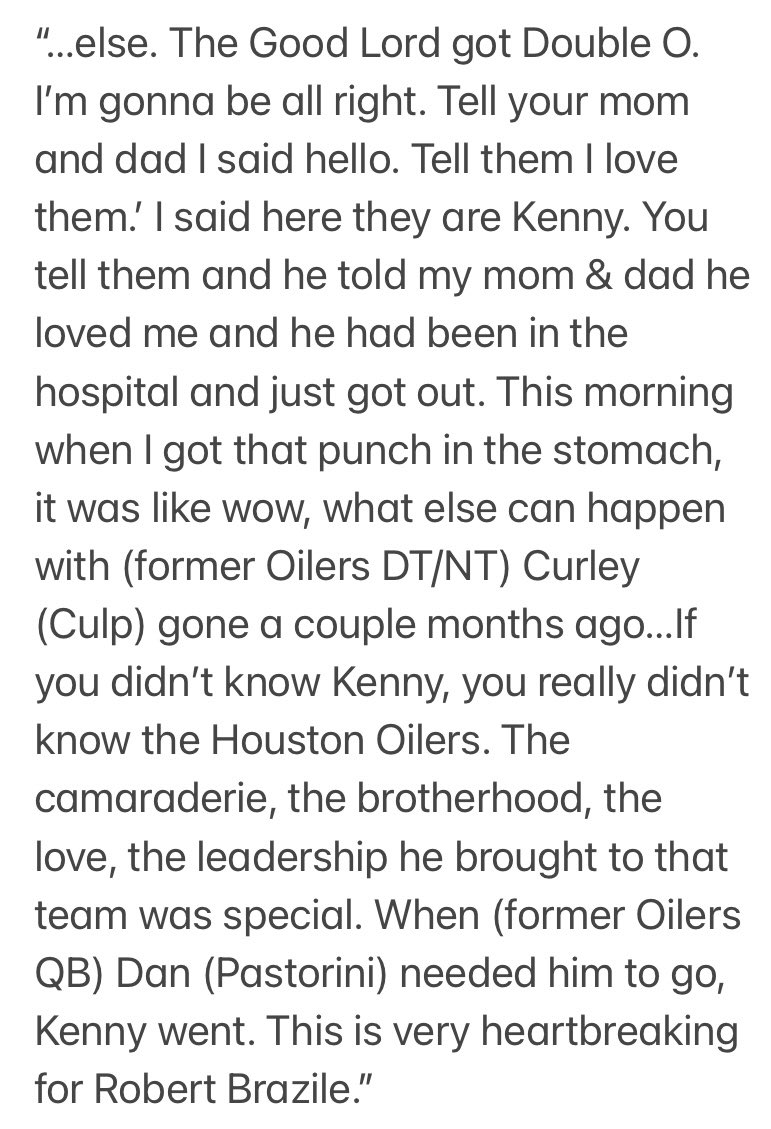 ---
NOT AN OBITUARY .
What you read is a news article of someone who recently passed away and not an obituary or death notice. In most cases our source of information are social media posts or tribute posted on social media to honor the life and legacy of someone who recently passed away. We however do crosscheck and verify this information to be true before reporting them as death or obituary news.
We also leave a link to the original source of information's that makes up our news articles , You can click on the the "Read More" or (Source) links to see the original post on social media where we gathered our information for the news article.