Nikki Catsouras Death Photographs – Nikki Catsouras Car Accident.
Just days after 18 year old Nikki Catsuras's death in a horrifying car crash in 2006, her father received an email with a picture of the bloody accident scene and the caption "Woohoo! Hey daddy, I'm still alive!"
A cruel trick involving nine gruesome images of the very graphic accident spread on the net and a fake Myspace page set up in Nikki's name where she was called a "stupid bitch". Commentors wrote things like, "That spoiled rich girl deserved it" and "What a waste of a Porsche".
How did the images get leaked in to the Net? Read story here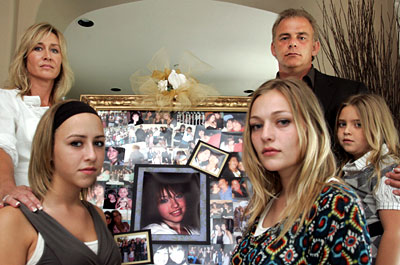 Tributes.
The following are some tributes posted on social media to honor the life and the legacy of the deceased.
Kelly Ann Tierney wrote 
April 25, 2011 · Shared with Public
I came across that photo on accident when I was reading up on DUI crashes (I know hers wasn't a DUI accident) and it made me sick that people would taunt her family with those pictures. What kind of people could be so sick! If that were me, that would destroy my family, it is so appalling. God bless her family!
Costa Boutis wrote 
Thanks for adding me,,,what a tragedy ,,I know no amount of money will bring Nikki back ,but I hope this teaches a lesson and hopefully the Catsouras family can get on with their lives in peace!
Patrick Joesph wrote 
I am so very sorry,i disagree,Nikki was just a youngwoman,thinking was not first,she is in my heart ,and I ask god to love and protect her everyday,Please tell her mom,she is not forgotten,I think of sweet NIKKI everyday,My SWEET Nicole Desiree Phillips was murdered in Tipton California Dec 30 2007,In y heart Nicole is Nikkis big sister.I love all of Nikkies family,with all my heart.Please dont worry,Nicole is her bigger sister.I hope we can be friends,I want you to hav en=-my phonenumber,I wil explain nICOLE,AND INTRODUCE YOU TO HER FAMILY.i LOVE YOU ALL.
Marilyn Datz wrote 
Nikki's original story aired on 20/20 the same night that my daughter's aired. Each had thier own segment. Bless her heart. Go to:JUSTICE FOR LINDSAY BRASHIER: EXTRIDITE EVELYN MEZZICH FROM PERU, and go scroll backwards to read all the articles. Yes, it is something…both Nikki and Lindsay.